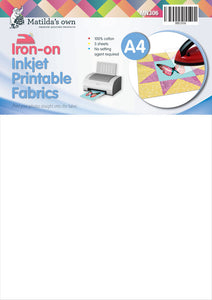 Estimated Arrival: Between Dec 15 and Dec 17. *ETA to AUS Only
Shipping: Free Shipping for orders over $100.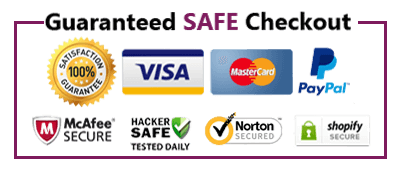 A4 IRON ON INKJET PRINTABLE FABRIC
Create new and magnificent designs with this Inkjet printable Fabric. Made by Matilda's Own, this fabric will allow you to personalize your quilts and projects like never before. This product is very similar to the regular Inkjet Printable Fabric only instead of sewing this sheet into your quilt you iron it onto a backing piece which can create depth and give your design a whole extra level.
Have you ever wanted to personalize your quilts with special photos or patterns? Well now you can with Matilda's Own Inkjet Iron On Printable Fabric. This special fabric is ready to slot into your printer to create those extra special projects for your friends and family. This pack contains A4 fabric which is the perfect size for larger photos and medium prints. This can create a focal piece on your quilt or a subtle addition to your pattern.
These sheets of fabric are very easy to use and are made of 100% cotton. They produce high quality prints and are easy to keep clean and wash.
How To Use Iron On Inkjet Printable Fabric A4
- Prepare your image to the correct size on your computer
- Be sure to set the print quality to "best" to ensure your photo quality is at its maximum
- If your piece of fabric has any loose threads make sure you tidy the edge with scissors before putting the sheet in the printer. Be sure you do not pull at the threads.
- Place your Inkjet printable fabric on the tray of your inkjet printer and start printing!
- Once printing is complete, leave your fabric in the tray and do not touch it until it is dry. This is to avoid smudging.
- When the ink is totally dry, position the glue (wrong side) side onto your base fabric, please use an applique mat or iron sheet to iron down your design. Please note the temperature of the iron needs to be 160-180 degrees Celsius.
This product will open a new door to your quilting expertise. It will allow you to personalize your projects like never before. You can create special birthday quilts or patterns to commemorate important events.
Please note this product is not suitable for use in laser printers.
---